Spy balloon__According to U.S. authorities, a Chinese surveillance balloon has been flying above the country for a few days. This would be a daring gesture only days before U.S. Secretary of State Antony Blinken is scheduled to visit Beijing.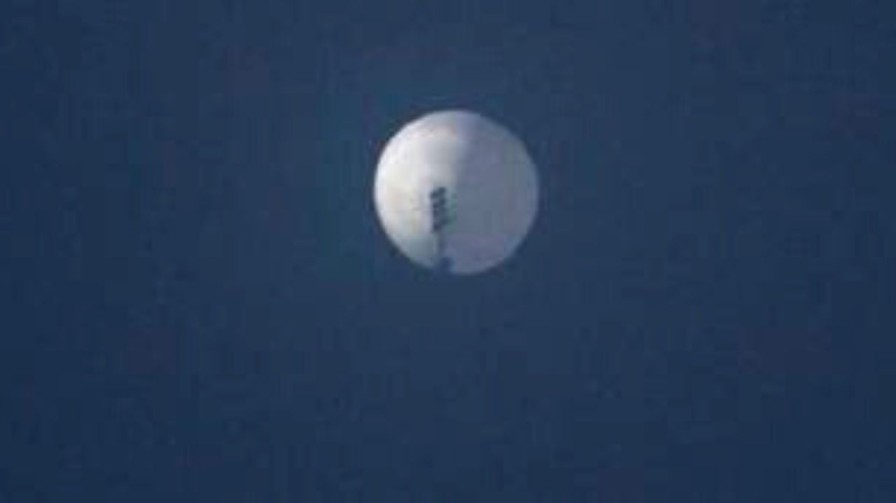 Chinese spy balloon
Fighter planes were activated, but military authorities recommended President Joe Biden not to fire the balloon out of the sky out of concern that flying debris may endanger his safety, advice Biden reportedly followed.
One of the sources told reporters under the condition of anonymity that the United States had taken "custody" of the balloon when it entered American territory and had been watching it with manned military planes.
Without providing any other information, Canada's military ministry said it had discovered a "high-altitude observation balloon" and was keeping an eye on a "possible second incident." It also claimed it was in constant touch with the US.
When addressing at an event at Washington's Georgetown University, CIA Director William Burns described China as the "greatest geopolitical issue" confronting the United States when the news first broke.
According to Pentagon spokesman Brigadier General Patrick Ryder, "The United States government has spotted and is following a high-altitude surveillance balloon that is now above the continental United States." The balloon is now flying at a height much above commercial air traffic, and neither a military threat nor a physical danger to anyone on the ground exists.
Beijing was "verifying" the situation, according to Mao Ning, a spokeswoman for the Chinese foreign ministry.
She said at a normal daily briefing in Beijing on Friday: "I would want to underscore that speculation and hype will not be beneficial to the correct resolution of the matter until the facts are disclosed. China abides by international law."
According to Mao, "China has no intention of breaching the soil or airspace of any sovereign state."
According to American officials, they discussed the issue diplomatically with their Chinese colleagues. According to a U.S. official, "We have expressed to them the seriousness with which we view this matter."
The balloon was deemed to have "little incremental value from an intelligence collecting viewpoint," according to a U.S. official.
In accordance with a visit that Biden and Chinese President Xi Jinping agreed upon in November, Blinken is anticipated to depart for China the following week. It was unclear how the spy balloon's discovery may influence such plans.
The spy balloon, according to U.S. Senator Marco Rubio, the senior Republican on the Senate intelligence committee, is troubling but not unexpected.
Rubio wrote on Twitter, "Beijing's degree of espionage directed at our country has gotten considerably more intense & blatant over the previous 5 years.
Senator Tom Cotton, a Republican, demanded that Blinken postpone his journey.
In reference to a confidential national security briefing for congressional leaders and the Republican and Democratic heads of the intelligence committees, Republican House Speaker Kevin McCarthy indicated he will ask for a "Gang of Eight" briefing.
In particular, after then-U.S. House Speaker Nancy Pelosi's travel to Taiwan in August, which sparked major Chinese military manoeuvres close to the self-governing island, relations between China and the United States have deteriorated recently.
Since then, Washington and Beijing have worked to increase communication and stop relations from deteriorating.
According to the insider, American military officials debated shooting down the balloon over Montana on Wednesday but ultimately counselled Biden against it due to the danger posed by falling debris.
The military prepared assets, such as F-22 fighter planes, in case Biden ordered the balloon to be shot down by issuing a ground stop at the Billings, Montana airport.
The person added, "We wanted to make sure we were working with civil authorities to clear the airspace over that prospective location
However, despite taking these safety precautions, our military leaders believed that we hadn't lowered the danger to an acceptable level. We decided not to attempt the shot."
John Parachini, a defence specialist, calculated that the balloon's size was comparable to three bus lengths.
Chase Doak, a resident of Billings who recorded it on Wednesday, claimed at first he believed it to be a celebrity.
However, he told Reuters, "I felt it was sort of odd since it was daytime and it was simply too large to be a star."
One of the officers mentioned a number of critical locations that the balloon would pass over, but he withheld further information. 150 intercontinental ballistic missile silos are located at the Montanan Malmstrom Air Force Base.
Before entering the country, the balloon was monitored near the Aleutian Islands and Canada, according to a different U.S. official.
These balloons normally fly at altitudes of 80,000–120,000 feet (24,000–37,000m), which is much above the flight paths of commercial aircraft. Although espionage planes like the U-2 have a service ceiling of 80,000 feet or more, the best combat aircraft normally do not fly over 65,000 feet.
Such balloons, according to Craig Singleton of the Foundation for Defense of Democracies' China team, were often employed by the US and the Soviet Union during the Cold War and are a cheap way to acquire intelligence.
The same Government that says it doesn't want to poke a hole in the Experimental Chinese Spy Balloon because it might injure people,
Is the same Government that had no problems poking holes in people's arm with an experimental gene therapy for a Chinese Virus. pic.twitter.com/gGkjuixtZL

— Rob Schneider (@RobSchneider) February 4, 2023
Surveillance is reciprocal.According to experts and diplomats, the U.S. frequently employs a variety of assets to monitor China's military buildup, from advanced electronic surveillance aircraft and submarines to military spy satellites in orbit. China has frequently voiced complaints about American spying, including the stationing of ships or aircraft close to Chinese military drills.
Several spy balloons have floated over the United States in recent years, but this one seemed to be hanging around longer than in other cases, a U.S. official reported.