Rohit Sharma:South Africa expects the captain will not require breaks and believes there will be ample time between games to recover.Mark Boucher, the new Mumbai Indians coach, has left it up to skipper Rohit Sharma to determine whether or not he needs to sit out games in the Indian Premier League (IPL) to manage his workload ahead of future international obligations.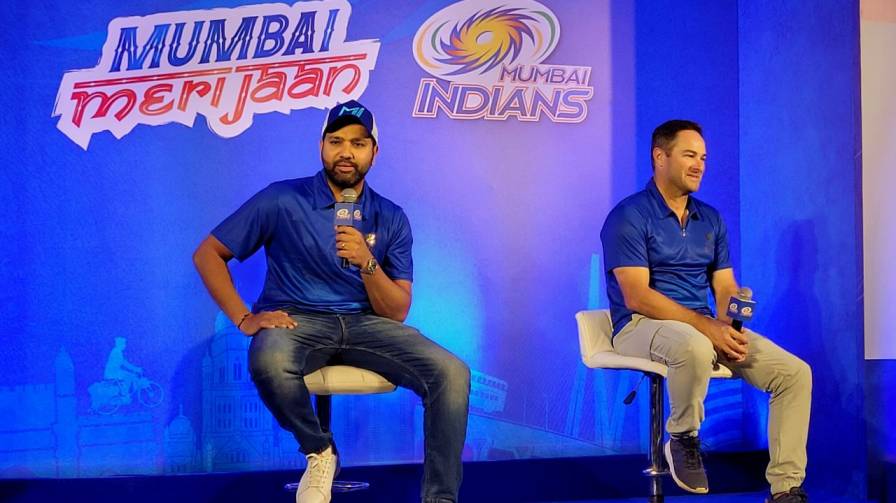 Rohit Sharma
Rohit Sharma, who is also India's captain, has emphasised the importance of national team players taking care of their bodies throughout the two-month-long tournament, and he himself is expected to miss a few games during the IPL season. Rohit Sharma may rest for a few IPL games, in which case Suryakumar Yadav will lead the team.
Rohit Sharma was questioned about taking a break during Mumbai Indians' first news conference before the IPL season. "I believe Mark will give you an answer to that," he said as he threw the ball to Boucher.
The ball was given back to Rohit Sharma by the South African. "Would you like some rest? He said, "ideally, he (Rohit) comes into some good form and ideally, he doesn't want to relax. He is the captain.
Whatever the scenario, we will adjust. I'll give him some rest if it would help me achieve the finest performance possible from him as a captain and player. No issues.
🚨 PRESS CONFERENCE TIME!

Paltan, watch Captain RO & Head Coach Mark Boucher address the media & answer your questions!

Watch LIVE 👉 https://t.co/sVWqBEE6hA#OneFamily #MumbaiMeriJaan #MumbaiIndians #IPL2023 #TATAIPL @ImRo45 @markb46 pic.twitter.com/dMHjdHgwY8

— Mumbai Indians (@mipaltan) March 29, 2023
April marks Rohit Sharma's 36th birthday. He is aware that his body isn't the same as it once was because of his injury history. Five IPL championships he's won have increased hopes for his captaincy of India.
The World Test Championship (WTC) final between Australia and India will begin one week after the IPL final at The Oval in London, so Rohit Sharma will be particularly motivated to captain India in the high-profile match.
Another major competition that no player wants to miss is the home 50-over World Cup in October and November.
A fit For India's future after the home series against Australia, Rohit Sharma is essential. He shared a crucial piece of advise with the Indian squad at their final meeting before the players split up for the IPL. Knowing the difficulty of playing for their teams, he continues, "I advised them to take care of their bodies.
This is the cause of all the discussion about task management, which astonished Boucher. According to the former Proteas wicketkeeper-batsman, the squad will rest a player who is feeling fatigued.
There is a lot of discussion on workloads and other related topics. T20 cricket has a wonderful space between games to sort of relax and heal, and we can take care of every player if you look at our calendar. I don't think workloads will be a significant problem for us during the IPL," he stated.
The IPL has for the first time instituted a "impact player" rule, and clubs can now make their team announcements following the toss. Boucher referred to it as a fantastic idea and believes that it will provide a more even playing field, particularly as dew starts to play a significant role in the Indian summer.
"The additional player is really a bonus. Rohit Sharma will have the team sheet with which he wants to bat first or bowl first when he heads out to the toss. I have a good feeling that the team will largely remain the same. The impact player is only a bonus player; you pick the top players, the Mumbai Indians coach continued.
आपल्या Captain आणि Head Coach ची जोडी is all set for the SZN! 🤝

Read more 👉 https://t.co/Vm27nMUXJG#OneFamily #MumbaiMeriJaan #MumbaiIndians #TATAIPL #IPL2023 @ImRo45 @markb46 pic.twitter.com/HyOMytfgrN

— Mumbai Indians (@mipaltan) March 29, 2023
Accentuate Archer
All eyes will be on Jofra Archer, who missed the last IPL season due to injury, in Jasprit Bumrah's absence due to injury. This season, Boucher believes Mumbai Indians' bowling assault will provide some shocks.
"I'll be honest, losing Bumrah has been a significant blow for us. When you lose guys, you occasionally have opportunities, he stated in reference to the loss to the Indian spearhead.
"Over the last several years, Mumbai Indians have built their teams by choosing their starting lineup, their backup lineup, and then investing in a few young players for the future. It's now time for those kids to appear and essentially have the chance.
"The main thing for the bowling line-up, in my opinion, is that we have experience, but we also have one or two openings for the younger players to really show off their abilities. I am really anticipating meeting them.
At the Wankhede Stadium, the Mumbai Indians play their first exhibition game where they will get a first-hand look at Archer's fitness and how he is developing for the season.