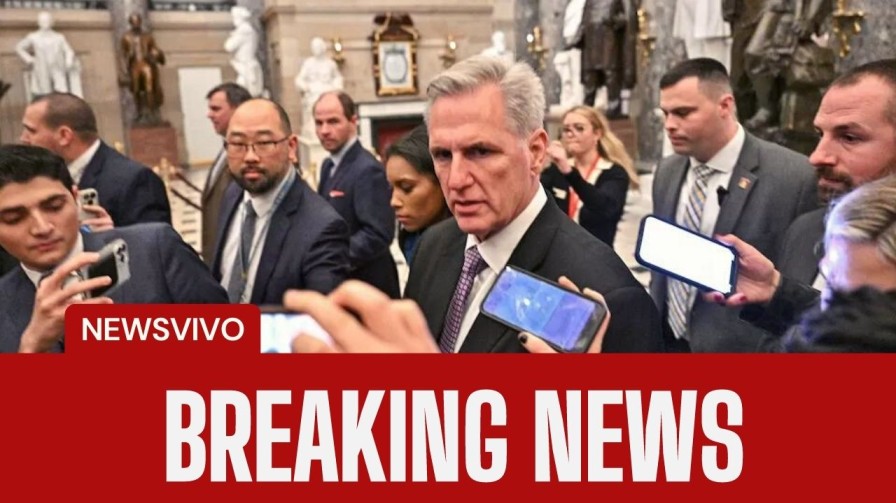 The US House of Representatives has failed to pick a new Speaker for the second day in a row, as California congressman Kevin McCarthy was humiliated in additional rounds of vote amid persistent resistance from an intransigent minority of Republican party rebels.
Despite a last-minute intervention from former President Donald Trump urging Republicans to rally behind McCarthy, 20 of the party's MPs voted against him in three rounds on Wednesday, robbing him of the simple majority necessary to seize the Speaker's gavel.
The House will likely resume on Thursday afternoon. McCarthy has received six ballots since voting began on Tuesday.
The impasse raised worries about McCarthy's chances of becoming Speaker, and it unleashed mayhem on the House floor as Republicans tried to find a way ahead. The House took a brief recess following its final round of voting on Wednesday afternoon in an attempt to allow MPs time to devise a solution to the stalemate.
McCarthy returned from the meetings stating that while "progress" had been made, there was no yet accord with the rebels, and more votes on Wednesday night would not be "constructive". The House then barely decided to adjourn for the night, 216-214, in a ballot characterised by yelling and confusion as the chamber clerk sought to terminate the voting session.
McCarthy became the only majority party leader in a century to lose on the first ballot on Tuesday. It took nine rounds of voting in 1923 to elect a Speaker.
McCarthy's defeats occurred despite Trump's efforts to gather support, writing on his Truth Social platform, "It's now time for all our Great Republican House members to Vote for Kevin, close the deal, and grab the win."
Lauren Boebert, one of the Republican rebels and a Trump devotee, remained defiant on Wednesday, claiming her "beloved president" had phoned to advise them to "stop this off".
"The president ought to say Kevin McCarthy, sir, you don't have the votes, and it's time to withdraw," Boebert said during a House floor address. Boebert and the other insurgents have put their support behind Florida's Byron Donalds.
McCarthy has rejected calls to resign, and it is questionable whether any Republican could effectively reconcile the party's warring sections and earn the simple majority of votes needed to become Speaker. Many in Washington have assumed that McCarthy's deputy, Louisiana's Steve Scalise, would be the logical choice.
Joe Biden, the Democratic US president, on Wednesday morning termed the House proceedings "a bit humiliating", adding: "How do you think this looks to the rest of the world?"
"This is not a good look," Biden told reporters at the White House. "This is the United States of America, and I hope they figure it out."
Democrats, who lost their House majority in the midterm elections in November, voted against McCarthy and instead supported their choice for Speaker, New York Democratic congressman Hakeem Jeffries. Democratic leaders have declined to forge a coalition with McCarthy or any more centrist Republicans to break the impasse.
McCarthy's opponents have come from a variety of Republican factions, including Trump supporters like Florida's Matt Gaetz and Boebert, as well as ultraconservatives like Texas' Chip Roy and Pennsylvania's Scott Perry, who are pushing for rule changes that would make it easier to call a vote of no confidence in a future Speaker.
The failed votes have ushered in an unprecedented period of deadlock in Washington, since the House is mandated by the Constitution to pick a Speaker and cannot begin governing until that happens.
The impasse has also highlighted long-simmering divisions inside the Republican Party, which remains fragmented following a poor midterm election showing. Despite predictions of a "red wave," Republicans retained control of the House of Representatives, the lower house of Congress, but failed to retake control of the Senate, the upper chamber.
Many Republicans in Washington have blamed Trump for such failures, claiming that he played a key role in the primary process by promoting his chosen candidates, many of whom failed at the polls. Nonetheless, the former president has attempted to restore himself as the party's kingmaker, particularly with an eye on the 2024 presidential election. Trump began his third presidential campaign two days after the midterm elections, and no other candidates have stepped forward to oppose him.
Trump's backing for McCarthy is the latest chapter in the two men's turbulent relationship. Trump referred to the lawmaker as "my Kevin" for years. McCarthy, on the other hand, allegedly declared after the January 6, 2021 attack on the US Capitol, "I've had it with this man," before beaming in images with Trump at his Mar-a-Lago resort two weeks later.
FAQs related to McCarthy
Q:What was the purpose of McCarthy's hearings?
Ans:The Army-McCarthy hearings were a series of televised hearings held by the United States Senate's Subcommittee on Investigations (April-June 1954) to investigate contradictory allegations made by the United States Army and U.S. Senator Joseph McCarthy.
Q.Who is McCarthy?
Ans:Kevin Owen McCarthy (born January 26, 1965) is a politician from the United States. He served as House Minority Leader in the United States House of Representatives from 2019 to 2023, and earlier as House Majority Leader from 2014 to 2019 under speakers John Boehner and Paul Ryan.