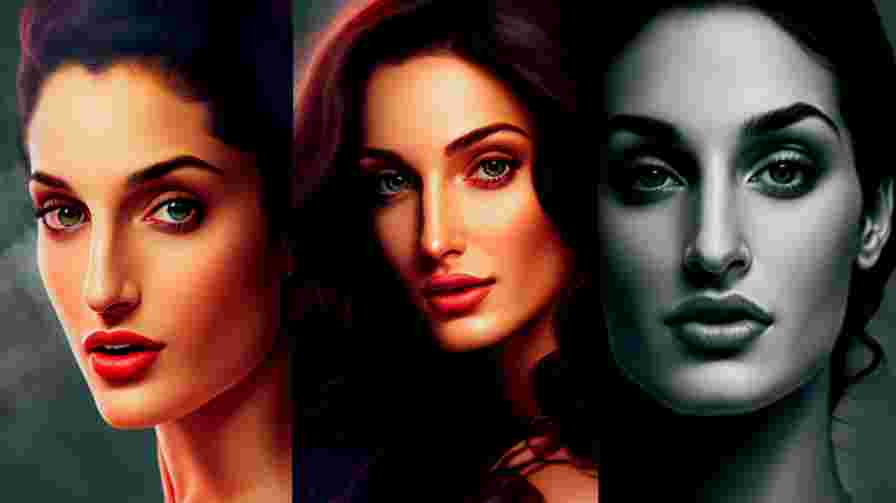 Sukesh Chandrasekhar
Sukesh became a Tamil Nadu politician's son, complete with a squad of 12 bodyguards, a pricey vehicle equipped with a red beacon, and other perks. He entered Taj Connemara in Chennai full of self-assurance in 2010, but as soon as he saw Leena Paulose as Leena Maria for the first time, he stopped in his tracks.
Leena, a dentist by training, also harboured acting aspirations. She had just finished filming a little part in the Mohanlal-starring movie Red Chillies (2009) when she first saw Sukesh and his support team. After they started dating, their relationship moved quickly over the first seven months. She was mingling with Chennai's elite, well-known actors, and entertainers. Then Sukesh disappeared one day. She just received a message from the machine informing her that his phone was off.
S Chandrasekhar, a Class X dropout, was born and reared in Bhawani Nagar, Bengaluru, in a middle-class family. In 2010, Sukesh allegedly assisted his father Vijayan Chandrashekhar, a part-time contractor, in defrauding a retailer of kitchen appliances. He was detained for the crime and recently passed away. After moving on to try his luck in the real estate industry, Sukesh wound up at the centre of Bengaluru's car-racing scene, where he "started seeing thoughts of becoming a millionaire."
Sukesh, 33, charmed his way into the lives of Bollywood actresses over the course of the following ten years by posing as the son of influential south Indian politicians. He courted them with expensive automobiles, chocolates, flowers, and Franck Muller watches.
His initial run-in with the law allegedly occurred in 2017, when he allegedly defrauded a resident of Bengaluru out of Rs 1.5 crore by promising to have his land purchased by the Bangalore Development Authority and have an apartment built with foreign investment. Over the following two years, he would be accused of a number of things, including impersonating Karnataka politician Karunakaran Reddy's son and tricking other individuals into thinking they were buying fancy cars.
Leena having discovered that Sukesh was being held in the Madurai jail for cheating. He told her his real name, Sukesh, when they first met in prison. She had previously assumed his name to be Balaji. Sukesh was released from prison five months later, and the pair then relocated to Bengaluru. He visited Mumbai while Leena was away for her assignments and boasted of connecting with prominent Bollywood celebrities. Leena has appeared in a number of movies, such as the Madras Cafe starring John Abraham and the Malayalam comedies Husbands in Goa (2012) and Biriyani (2013). (2013).
But according to the ED chargesheet, S Chandrasekhar and Leena will soon "lead an organised crime ring." In 2014, the couple exchanged vows. They would pretend to be an IAS officer and his secretary, tricking people into buying government contracts and participating in ponzi scams, it is said.
The couple moved in together at Imperial Heights, Goregaon, Mumbai, by 2013–2014. Sukesh, meanwhile, had acquired a different flat in the same building without Leena's knowledge, and he was also "doing parallel auditions for other women." Sukesh then relocated to Delhi as the number of court proceedings against him increased.
S Chandrasekhar faced more accusations in 2021 in the Patiala House National Investigation Agency (NIA) court in Delhi. For example, under the guise of assisting her husband in obtaining bail in a money-laundering case, Aditi Singh, the wife of former Fortis Healthcare promoter Shivinder Singh, was forced to pay Rs 217 crore in extortion.
Aditi had transferred the funds via ten family-owned businesses. She had to sell her children's belongings and borrow money from family members. S Chandrasekhar's assistants used cash payments to collect this money, which was then transferred through 53 fictitious firms using hawala routes. Leena is accused by investigators of assisting Sukesh in disposing of the proceeds of the crime by obtaining bank entries from various parties and investing them in luxurious vehicles, homes, and other companies.
Bollywood actors whose names have appeared in the Directorate of Enforcement (ED) prosecution complaint (chargesheet) for allegedly taking advantage of the proceeds of the crime have been thrust into a vortex that threatens to damage their careers. The ED officers think that Sukesh used the money he stole from Aditi to pay for both his luxurious lifestyle and the pricey presents he bought for these actors. In court, he has received criticism from every actor.
Despite being aware of Sukesh's criminal history, actress Jacqueline Fernandez is accused of taking presents from him. In this Economic Offences Wing (EOW) case, she has since become a witness. After Sukesh attempted to give her a BMW automobile, which was later given to a relative of hers, Nora Fatehi's name appeared in the ED chargesheet. He made numerous attempts to win her over in order to convince her to date him.
Angel, Aafreen, and Alka are some of her aliases. She had blonde streaks in her hair, was sporting designer sunglasses, and had an outstanding résumé. She was the owner of talent agencies in California, Dubai, and Mumbai in addition to being the chief financial officer of Jaya TV and News Express. She is allegedly Pinky Irani, a former TV host suspected of introducing actresses and models to Sukesh inside Tihar jail, according to Delhi Police officers.
Pinky asserted that she had been in contact with Sukesh via Instagram from 2017–18. Sukesh intended to start a talent agency at the time and pretended to be a movie producer. The role of chief managing director was on the table for her.
The intention was to impress guests with a 100-inch television that was almost as large as the space. It was connected to cutting-edge devices including an Apple Bluetooth speaker and a PlayStation. The room had a couch, a recliner, an air conditioner, and a fridge filled with bundles of cash. Court papers also reveal that Gucci, Louis Vuitton, and Hermes bags were neatly arranged on a table among Rolex watches.
In the middle of it all, Sukesh, who was dressed expensively and was wearing a pricey watch, pretended to be the owner of a south Indian channel and sold actors—who Pinky is said to have brought into the jail—the idea of producing OTT series. She was instructed to introduce Sukesh as one of India's most influential fixers with a net worth of $10 billion by Sukesh. According to the ED chargesheet, Pinky transformed became Sukesh's "personal shopper," purchasing designer bags from Christian Dior, Louis Vuitton, and Hermes, as well as pricey jewellery, clothes, flowers, chocolates, watches, a horse harness, saddle, and whip.
Sukesh had allegedly established an office on the grounds of the jail, according to the ED's supplemental chargesheet. It also listed Chahatt Khanna, Nikki Tamboli, and Sophia Singh as three performers who met Sukesh when he was incarcerated. They arrived by plane from Mumbai, and Pinky drove them in a BMW from the Delhi airport to Tihar prison.
Sukesh was described to Chahatt as "the owner of a south-Indian channel" and "younger brother to politician Jayalalithaa." Sukesh appeared in The Film (2005), Ek Main Ek Tum (2005), and the television series Bade Acche Lagte Hain (2011). Pinky reassured them that this was "a bureaucrat cell and he was officially allowed to meet people," despite the fact that these actors found it disconcerting because the "office" was located in Tihar jail.
Chahatt entered Sukesh's Tihar office on the first floor and found him surrounded by gaming systems, technological devices, and Hermes handbags. Then, he allegedly boasted about his contacts by calling Bollywood actors. Sukesh allegedly confessed to tapping her husband's phone, finding out his location, and then popping the question to her. Chahatt told the ED, "He proposed to me to be married to him and indicated that my life will be far better." In exchange for meeting him, she received Rs 2 lakh in cash and a blue Versace watch.
Conversely, Nikki, who took part in the reality competition Big Boss and made appearances in a few Telugu films, met Sukesh in April 2018. He introduced himself as a married man who was also a "large guy and a huge producer" before bragging that he "had over 100 girlfriends." Sukesh instructed her to change her Instagram bio to read "in a relationship" and share a photo of a bag he gave her when they first met. According to the ED chargesheet, she was paid about Rs 3.5 lakh for meeting him.
Pinky approached Sophia and said Sukesh was interested in signing her for a "huge banner south-Indian film." She initially met Sukesh in May 2018, and she is well-known for her parts in 22 Days (2018) and Ae Kaash Ke Hum (2020). Two police officers were on guard when she entered the office in Tihar. Sukesh, who had a beard and a trimmed haircut, made a commitment to book her in a movie inside. For meeting him twice, she was paid Rs 3.5 lakh and a Louis Vuitton handbag. Sukesh persuaded the women in these gatherings that he was being held in jail due to a political feud and would soon be freed on bail.
According to court documents, Sukesh also attempted to give gifts to Janhvi Kapoor, Sara Ali Khan, and Bhumi Pednekar, three more Bollywood celebrities.
Janhvi claimed that neither Sukesh nor Pinky ever got in touch with her. Leena, who was in touch with her, requested that she open her salon in Bengaluru on July 19, 2021. 18.94 lakh rupees were paid to Janhvi as professional fees. She informed the ED that Leena's mother gave her a Christian Dior purse on the day of the event. However, "someone under the name of Suraj Reddy did WhatsApp her on May 21, 2021, whereby he stated that he would like to offer her a car as a family gesture," Sara claimed that she did not know anyone by the name of Sukesh. She declined his gifts, although she did consent to a box of chocolates.
Pinky had also gotten in touch with Bhumi, who informed the ED that Pinky had pretended to be the vice-president (human resource) of News Express between January and July of 2021. Sukesh, the chairman of her organisation, "was a fan and wanted to chat with her about a large project and also wanted to offer her a car," it was said to her. Bhumi denied having any personal contact with Sukesh or getting any gifts from him.
Former Sri Lankan beauty queen Jacqueline made her Bollywood debut in 2009 with the movie Aladin. In order to impress Jacqueline, who played the part of a foreign exchange student, the film's main character Ritesh Deshmukh uses a genie. She would later land significant projects and have the chance to collaborate with a number of well-known celebrities. It therefore came as no surprise when Sukesh, posing as Shekhar Ratna Vela, "her biggest fan," tried to call her. From December 2020 until January 2021, he kept calling her.
Pinky approached Shaan Muttathil, her makeup artist. She urged him to introduce Sukesh to Jacqueline when they met at the JW Marriott in Mumbai, but nothing happened. Everything was altered by a fake phone call from Home Minister Amit Shah's office. According to the ED chargesheet, Sukesh pretended to be a representative of the Ministry of Home Affairs and asked Shaan to contact Sukesh, who was a "very important person in the government."
After exchanging numbers, Jacqueline started conversing with Sukesh. As the owner of Sun TV and "belonging to Jayalalithaa," he presented himself. He desired to give her a Bentley as a gift. She mistook it for a practical joke and avoided him for a month. However, Sukesh persisted, claiming to be the owner of coal mines, to have purchased Kalyan Jewellers, and to have collaborated with the Indian government on a weapons transaction with Russia, according to the chargesheet. Sukesh then informed Jacqueline that she had been chosen to serve as the brand ambassador for Malabar Jewellers. According to the chargesheet, Sukesh sent her Rs 15 lakh.
The presents didn't stop either. Limited-edition perfumes, Veen Water, flowers, chocolates, expensive purses, diamond bracelets, and earrings were among the gifts Sukesh sent Jacqueline. The detectives claimed that once he even mailed her a Mini Cooper, which she promptly returned. Sukesh gave Jacqueline five watches, 20 pieces of jewellery, 65 pairs of shoes, 47 articles of clothes, 36 bags, 9 paintings, and a Versace dinnerware set, according to the investigators.
Valentine's Day in 2021 was painful for Sukesh, though. According to the ED, Shaan had sent Jacqueline a news piece about Sukesh's criminal past. Sukesh started showering her with presents at this point. He had given Irani a Rs. 10 crore commitment to settle their differences. Jacqueline was aware of his illegal past, but he continued to benefit from it. She could have quickly checked Google to confirm Sukesh's allegations, according to an ED officer.
In addition, Sukesh spent Rs 57 lakh at Mumbai's Mahalaxmi Racecourse for a horse named Espuela and four kittens for Jacqueline. After accepting his invitation to visit his uncle's funeral in Chennai in June and later in July of 2021, she finally got to meet him in person. They spent their time cruising the city in two Range Rovers being escorted by 15 bodyguards. In Kerala, Sukesh also set up two private flights and paid for her hotel stay. Additionally, he gave to her personal charity.
Jacqueline allegedly collected Rs. 7.12 crore in proceeds of crime from Sukesh, according to ED investigators. He also bought a Porsche and a Maserati for her parents in Bahrain and gave 26,740 AUD to her brother in Australia in addition to paying a scriptwriter Rs 15 lakh to produce a television show for her.
But there soon developed a rift between the two. The chargesheet said that Pinky attempted to mediate their dispute and gave Jacqueline a diamond ring from Tiffany's with the initials J&S engraved on it.
Jacqueline reported to the ED that Sukesh started interfering with her work and becoming more possessive. He never introduced her to his family, which further aroused her suspicion. Sukesh was initially kind to her and her friends, but she wasn't going to judge him for his prior behaviour because she was "trying to reform him."
According to Jacqueline's attorney Prashant Patil, "truth shall rise to the surface" and that she was duped by Sukesh. Pinky's attorney, RK Handoo, questions why his client hasn't been called as a witness in this case given that Sukesh also conned her into working as an editor.
The co-accused are "playing the victim card," according to Sukesh's attorney Anant Malik, and the accusations are "nothing but useless noise." Leena's attorney claimed that the pricey car she bought was supported by legal dealings and added that "she has not been in touch with her family."
Sanjay Beniwal, the DG of Prisons, has his work cut out for him right now. When Sukesh was being held in Rohini jail, more than 80 prison employees were charged with accepting payments from him. Sukesh is a natural talker. The best course of action when dealing with a difficult customer like him is to follow the law. Because we did not do our duties well, our reputation did suffer. We're attempting to reset the system, he says.
He has been working hard to close loopholes that could be exploited to bribe jail employees while also planning training sessions for the staff and raids to crack down on cell phone use.
Sukesh, who is incarcerated in Delhi's Mandoli Jail alongside his wife, spends the majority of his time reading newspapers and sending letters to the media as the case develops.