The banking sector in India is a crucial part of the country's economy and is characterized by a variety of banks catering to different demographics.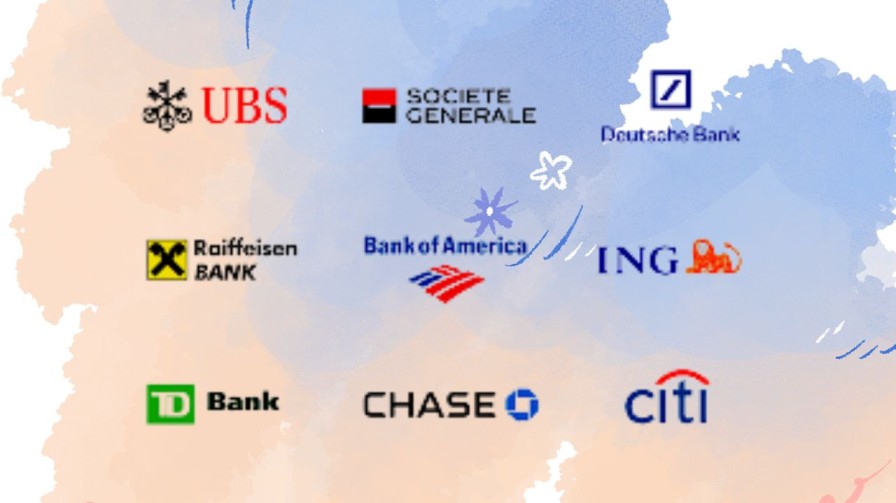 Banks and their headquarters__From public sector banks to private sector banks to foreign banks, the Indian banking system offers a range of financial services. Services for individuals, businesses and governments. Some of India's largest and most well-known banks are headquartered in major cities such as Mumbai, Delhi and Bengaluru. For example, State Bank of India, the largest public sector bank in India, is headquartered in Mumbai. ICICI Bank, one of the largest private banks in India, is headquartered in Mumbai.HDFC Bank, another leading private bank, is headquartered in Mumbai.
Besides these big banks, there are also many smaller banks, credit unions and regional rural banks that operate in India serving the financial needs of their local communities. These banks play a crucial role in promoting financial inclusion and providing financial services to both banked and unbanked regions of the country.
The banking sector in India continues to grow and develop, with the head offices of these banks serving as hubs for their operations. , driving the growth and development of the Indian economy.
In this article, we have written the list of all private and public sector banks and their HQ
Banks and their headquarters 2023
The Reserve Bank of India (RBI) is the highest banking regulator in India established by the RBI Act of 1934. Banks in India divide into two categories: registered banks and unregistered banks. Registered banks are those banks listed on the second schedule of the RBI Act 1934, while unregistered banks are not listed on the second schedule of the RBI Act 1934. On the basis of ownership, banks are divided into: Private Sector Banks, Banks of the Public Sector and Foreign Banks.
Types of Commercial Banks in India Registered Banks: Banks listed under Schedule Two of the RBI Act 1934. These are categorized below.
Private Sector Banks: – Most shares are held by private individuals. Examples of private banks are HDFC Bank, ICICI Bank, AXIS Bank, etc.
Public Sector Banks: Most ownership is in the hands of the government. Examples of public sector banks are Punjab National Bank, State Bank of India and Central Bank of India etc.
Foreign Banks:- Banks based outside of India are referred to as Overseas Banks. Examples of foreign sector banks are Standard Chartered Bank, American Express, Citi Bank, etc.
Banks and their headquarters MD & CEO and Tagline
Public Sector Banks & Private Sector Banks
| | | | |
| --- | --- | --- | --- |
| Banks | Headquarters | Heads | Tagline |
| Andhra Bank | Hyderabad | J Packirisamy (MD & CEO) | Where India Banks |
| Axis Bank | Mumbai | Amitabh Chaudhry (MD & CEO) | Badhti Ka Naam Zindagi |
| Bank of Baroda (Vijaya Bank & Dena Bank) | Vadodara | Sanjiv Chadha (MD & CEO) | India's International Bank |
| Bank of India | Mumbai | Atanu Kumar Das (MD & CEO) | Relationship beyond Banking |
| Bank of Maharashtra | Pune | A.S. Rajeev | Ek Parivaar, Ek Bank (One Family One Bank) |
| Bandhan Bank | Kolkata | Chandra Shekhar Ghosh (MD& CEO) | Aapka Bhala, Sabki Bhalai |
| Canara Bank (Syndicate Bank) | Bengaluru | L V Prabhakar (MD & CEO) | Together We Can |
| Central Bank of India | Mumbai | Pallav Mohapatra | Central to You Since 1911, Build a better life around us |
| Corporation Bank | Mangalore | P V Bharathi | Prosperity for all |
| Citi Union Bank | Tamil Nadu | Dr N. Kamakodi | Trust And Excellence since 1904 |
| Dhanlaxmi Bank | Kerala | Sunil Gurbaxani (MD & CEO) | Tann Mann Dhan |
| Federal Bank | Kerala | Shyam Srinivasan | Your Perfect Banking Partner |
| HDFC Bank | Mumbai | Aditya Puri | We understand your world |
| IDBI Bank | Mumbai | Rakesh Sharma | Banking for All, Aao sochein Bada |
| Indian Bank (Allahabad Bank) | Chennai | Padmaja Chundru | Your Own Bank, Banking That's Twice As Good |
| Indian Overseas Bank | Chennai | Karnam Sekar (MD & CEO) | Good People to Grow With |
| ICICI Bank | Mumbai | Sandeep Bakhshi | Hum hai na, Khayal Apka |
| IDFC Bank | Mumbai | V. Vaidyananthan (MD & CEO) | Banking Hatke |
| IndusInd Bank | Mumbai | R. Seshasayee (Chairman) Romesh Sobti (CEO) | We Make You Feel Richer |
| Karnataka Bank | Mangaluru | M S Mahabaleshwara | Your Family Bank, Across India. |
| Karur Vysya Bank | Tamil Nadu | N. S. Srinath (MD & CEO) | Smart way to Bank |
| Kotak Mahindra Bank | Mumbai | Uday Kotak | Let's make money simple |
| Lakshmi Vilas Bank | Chennai | S Sundar | The Changing Face Of Prosperity |
| Punjab National Bank (Oriental Bank of Commerce & United Bank of India) | New Delhi | S. S. Mallikarjuna Rao | The Name You Can Bank Upon |
| Punjab & Sind Bank | New Delhi | S Hari Shanker | Where Service is a Way of Life |
| RBL Bank (Ratnakar) | Mumbai | Vishwavir Ahuja | Apno ka Bank |
| State Bank of India | Mumbai | Rajnish Kumar | The Banker to Every Indian, The Nation Banks on us, A Bank of Common Man, With You all the Way, Pure Banking Nothing Else |
| Syndicate Bank | Manipal, Karnataka | Ajay Vipin Nanavati (Chairman) Mrutyunjay Mahapatra (MD & CEO) | Faithful and Friendly |
| South Indian Bank | Thrissur, Kerala | V G Mathew | Experience Next Generation Banking |
| UCO Bank | Kolkata | Atul Kumar Goel (MD & CEO) | Honours Your Trust |
| Union Bank of India | Mumbai | Rajkiran Rai G. | Good People to Bank with |
| Yes Bank | Mumbai | Ravneet Singh Gill | Experience our expertise |
Banks and their headquarters
All India Financial Institutions
| | | | |
| --- | --- | --- | --- |
| EXIM Bank | Mumbai | David Rasquinha | – |
| NABARD | Mumbai | G R Chintala (wef – 27/05/2020) | – |
| NHB | New Delhi | Sarada Kumar Hota | – |
| SIDBI | Lucknow | Mohammad Mustafa | – |
Banks and their headquarters
Payments Banks
| | | | |
| --- | --- | --- | --- |
| Airtel Payments Bank | New Delhi | Anubrata Biswas | – |
| India Post Payments Bank (Now it will become Small Finance Bank) | New Delhi | Suresh Sethi | Aapka Bank Aapke Dwar |
| Fino Payments Bank | Mumbai | Rishi Gupta | Qadar aapki mehnat ki |
| Paytm Payments Bank | Noida | Satish Kumar Gupta | – |
| Jio Payments Bank | Mumbai | H. Srikrishnan | – |
| NSDL Payments Bank | Mumbai | SP. Narayanan | Technology Trust and Reach |
Banks and their headquarters
Small Finance Banks
| | | | |
| --- | --- | --- | --- |
| Au Small Finance Bank | Jaipur | Sanjay Agarwal | Chalo Aage Badhe |
| Capital Small Finance Bank | Jalandhar, Punjab | Sarvjit Singh Samra | Vishwas se Vikas tak |
| Equitas Small Finance Bank | Chennai | PN Vasudevan | It's Fun Banking |
| ESAF Small Finance Bank | Thrissur, Kerala | Kadambelil Paul Thomas | Joy of Banking |
| Fincare Small Finance Bank | Bengaluru | Rajeev Yadav | Banking On More |
| Jana Small Finance Bank | Bangaluru | Ajay Kanwal | Paise Ke Kadar |
| North East Small Finance Bank | Guwahati | Rupali Kalita | Your Door Step Banker |
| Suryoday Small Finance Bank | Belapur, Navi Mumbai | Baskar Babu Ramachandran | A Bank of Smiles |
| Ujjivan Small Finance Bank | Bengaluru | Ittira Davis | Build a Better Life |
| Utkarsh Small Finance Bank | Varanasi | Govind Singh | Apki Umeed ka Khata |
Avoid tags_banks and their headquarters,banks and their headquarters,banks and their headquarters 2023.banks and their headquartersbanks and their headquartersbanks and their headquarters