Rooh afza is a dark pink, sweet, concentrated syrup made from fruits, flowers, and herbs that is typically poured over iced water or milk or used to flavour desserts like as phirni and falooda.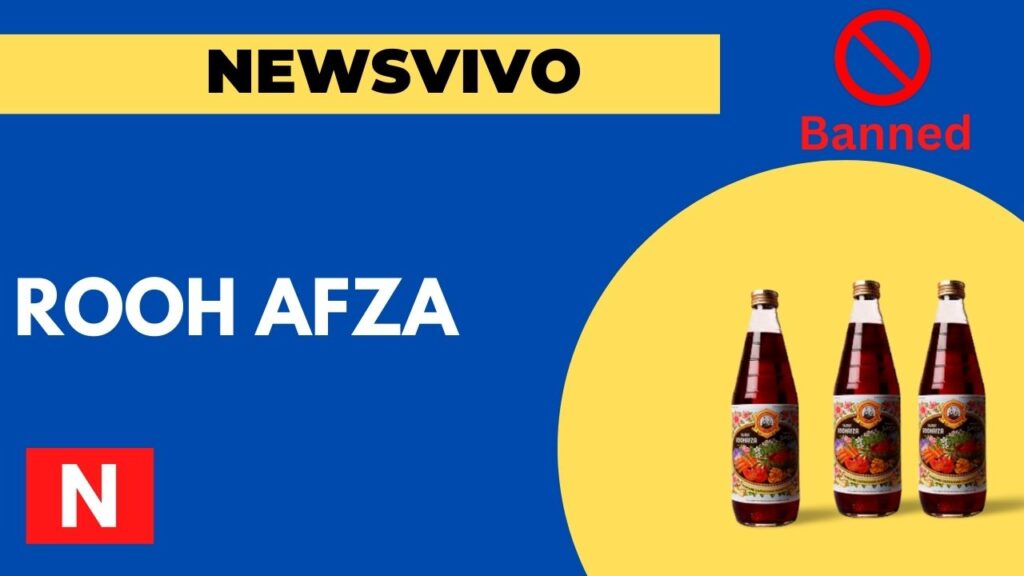 Its eating is often associated with Eid celebrations in the subcontinent, where the iftar meal for breaking the fast typically includes Rooh Afza.Hakim Hafiz Abdul Majeed developed the sherbet recipe while running a small clinic that practised Unani, an ancient Graeco-Arabic medical system that is still used in the Middle East and some South Asian countries. Unani is recognised by the Ministry of AYUSH as one of the "traditional & nonconventional methods of health care and treatment which include Ayurveda, Yoga, Naturopathy, Unani, Siddha, Sowa-Rigpa and Homoeopathy etc".
According to folklore, in 1906, Majeed began seeking for something to avoid heat strokes, exhaustion, and other health difficulties caused by the summer heat in North India, and Rooh Afza was produced the following year, more as a cooling drink than a remedy. When Majeed died at the age of 34, his widow, Rabea Begum, created the Hamdard Trust to fund charitable activities and Unani medicine research.
Is Rooh Afza good for health?
Yes, Rooh Afza is beneficial to one's health. It is created from fruit, herb, and vegetable extracts. Apart from being an excellent cooling agent during this scorching summer, it is also beneficial to one's health. It is comprised of so many natural and healthy ingredients that everything it does is beneficial. It aids in the reduction of body warmth and the prevention of indigestion. Many studies have revealed that it aids in weight loss, as well as improving metabolism and physical strength.
Why is Rooh Afza so famous?
The word Roof Afza means 'Soul Refresher'
Rooh Afza is often advertised in hot weather as a cold and pleasant drink that may rejuvenate your body. The bright crimson colour and exquisite aroma of real rose petals characterise this very fragrant drink. Orange, lemon, pineapple, mint, strawberry, raspberry, grapes, lotus, coriander, and carrot flavours are also present. It is a well-rounded beverage that both pleases the palette and refreshes the body.
Is Rooh Afza a Pakistani drink?
Right Now,Hamdard Laboratories in India, Hamdard Laboratories (Waqf) in Pakistan, and Hamdard Laboratories (Waqf) in Bangladesh now manufacture Rooh Afza. Since 1948, the company has been manufacturing the product in India, Pakistan, and Bangladesh.
Rooh afza price
Buy Hamdard Sharbat Roohafza – The Natural Refreshing Drink 750 ml Bottle Online at Best Price. of Rs 160. And For 250ml it's only 60 Rupee.
why is rooh afza banned?
As per The Hindu Rooh Afza has been outlawed in India after its owner, the Hamdard National Foundation, brought a case in the Delhi High Court. The proprietor claimed that his Pakistani counterpart's wares were being distributed on the e-commerce website Amazon.
The Delhi High Court has ordered Amazon to remove a drink created by a Pakistani business under the brand name "Rooh Afza" off its Indian marketplace.
The order was issued on September 7 in response to a petition filed by the Indian social welfare NGO Hamdard National Foundation, which claimed that some of the "Rooh Afza" listed on the Indian e-commerce site are manufactured by Pakistani companies whose names are not printed on the packaging, rather than by Hamdard Laboratories (India).
Rooh Afza sherbet concentrate, a Unani formulation with cooling properties, has long been popular in North India throughout the summer. It is thought to have been invented as a summer heat treatment in Delhi in the first decade of the twentieth century.
According to the court, "Rooh Afza" is a product that has been taken by the Indian public for more than a century, and its quality criteria must comply with the applicable rules specified by the Food Safety and Standards Act and the Legal Metrology Act. It's strange that an imported product is being sold on Amazon with no information about the manufacturer."
Pakistan's Hamdard Laboratory (Waqf) was one of the manufacturers whose products were sold on Amazon. According to the company's website, Hakim Mohammed Said founded Hamdard Pakistan in Karachi "in a two-room rented clinic of Tibb-e-Unani in 1948," and "Hamdard quickly became a success story with its recognised and well-liked products".
What did the court grant about rooh afza?
The contested trademark, "Dil Afza," is identical to "Rooh Afza" phonetically.
Second, the fact that the phrase "heart and soul" is a well-known expression offers a shared conceptual basis "if recall from memory is activated by the English meaning of the terms "ROOH" and "DIL"."
Thirdly, the competitor brand's reputation among consumers is considerably influenced by the trade dress of the challenged trade mark, which consists of the bottle's shape, design, placement of the house mark, and vibrantly active label design. The value of the item was also taken into consideration. The product is cheap and designed for consumption, thus the court reasoned that "the typical customer would not concentrate on the product's attributes as one would do while contemplating a high-value investment option."